Ocean Youth Trust Scotland/Drumchapel G15 Voyage
Thanks to the support of the Merchants House of Glasgow, ten young people from G15 Youth Group in Drumchapel and a Stand Up to Sectarianism focused group from St Paul's Youth Forum in Provanmill stepped on board our yacht Alba Venturer accompanied by their group leaders in the 2019 sailing season.
Young participants from G15 Youth Project, Drumchapel On Monday 19th August 2019, the group from Provanmill (St. Paul's Youth Forum) joined the boat in Oban and sailed for a week to their final destination at James Watt Dock in Greenock. 4 weeks later, 10 young Glaswegians from the G15 Youth Project in Drumchapel sailed from 16th-20th September from Greenock. Like many of the youth groups we work with, they experienced a range of emotions– excitement mixed in with a bit of worry as to how they would get on over the week.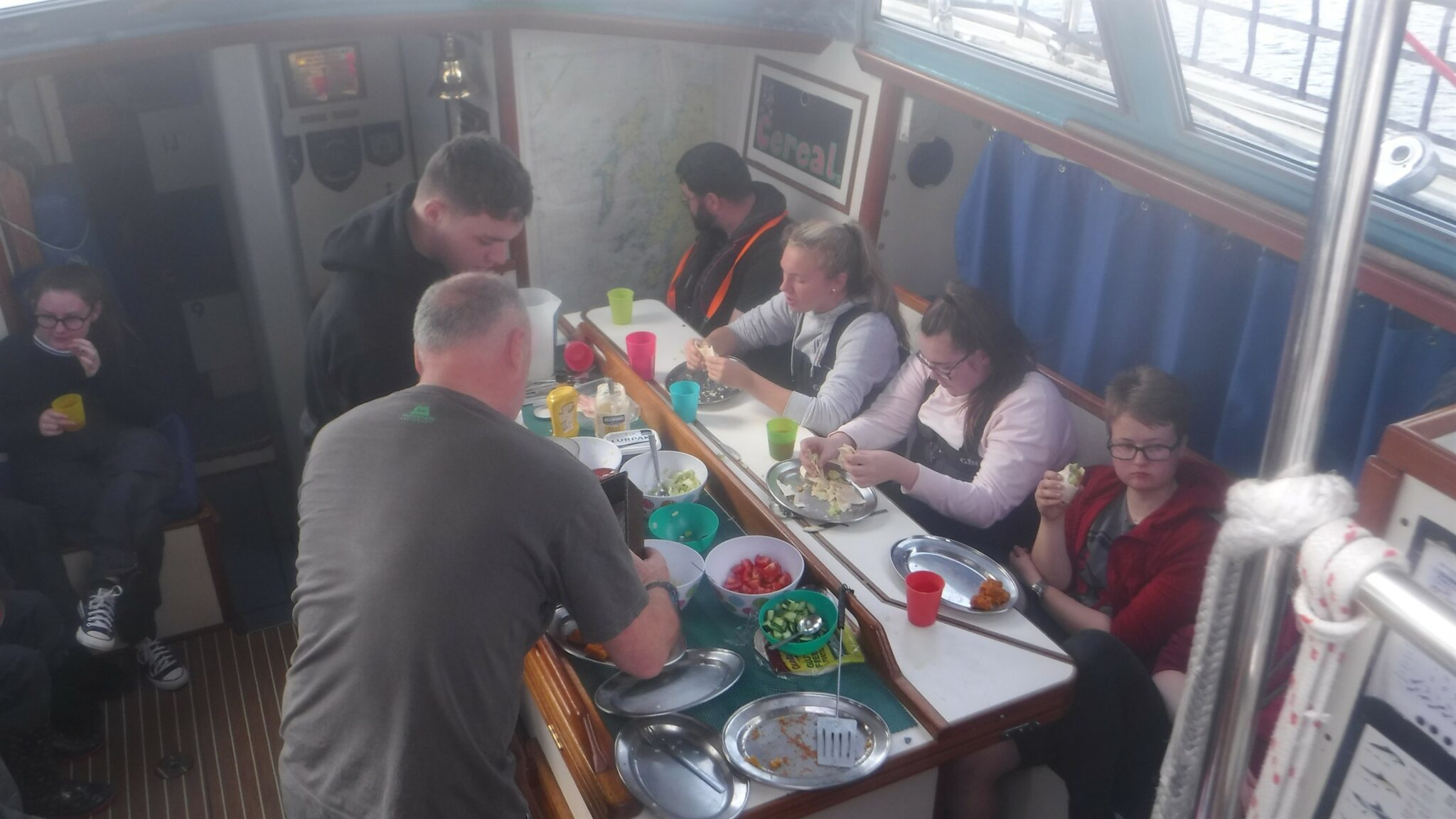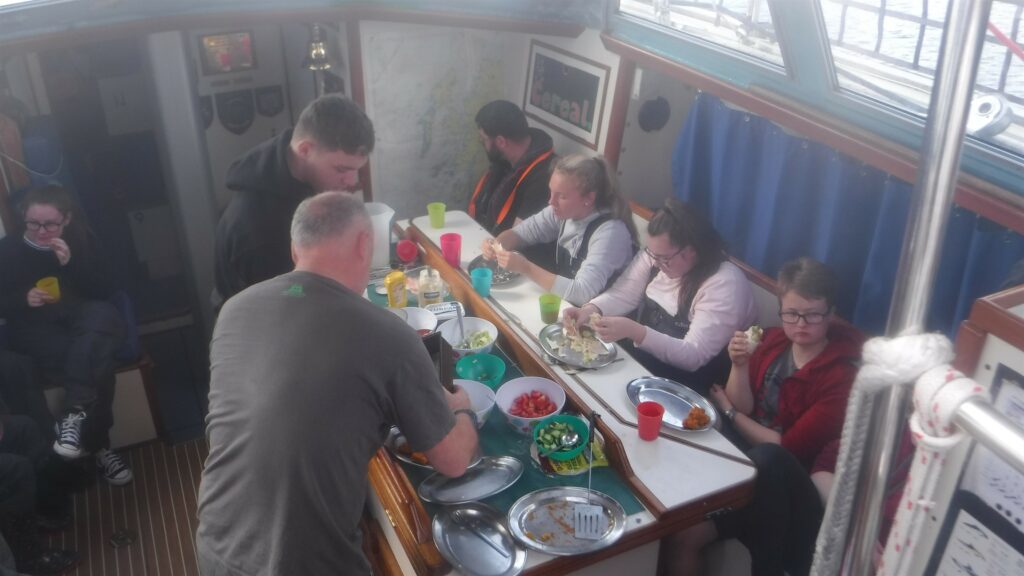 Ocean Youth Trust Scotland supports around 800 young people per year to realise their true potential through residential Adventure under Sail. Our voyage syllabus sets out to develop self- confidence, teamwork, ability to work with others and learn from experience. Our voyages are fun and by learning to deal with the unpredictable nature of the sea, we encourage young people to face challenge in a positive way and earn accredited qualifications while on board. A significant focus of our sail training work is with disadvantaged young people. It is our observation, that many young people in need with whom we work with have no prior knowledge of the sea and often they have not had the chance to venture out of their immediate community.
Making an impact…
Support of £10,000 from The Merchants House of Glasgow allowed these young people from Glasgow to participate in a 5 day voyage on board our 70ft sailing vessel, Alba Venturer.The young people selected to participate in these voyages were identified by group leaders as most likely to benefit from our youth work at sea experience. This could be because they have difficult personal circumstances that affect their chances of success in future life.
The G15 Youth Project works with over 500 local young people each year in Drumchapel – an area where 45% if the population is under the age of 25. The project supports youngsters who often do not have support at home and face extreme hardship due to fractured family lives, parental alcohol/substance abuse or displacement as a refugee. Given some of the young people's circumstance, the project can often be an extended family for some of the young people.
Stand Up to Sectarianism is a Youth Scotland programme that tackles hate crime and sectarianism across Scotland in some of the hardest to reach communities. The programme uses innovative methods like storytelling, film-making and residential trips to encourage young people to explore difference, break down barriers and talk about the issues that are present in their communities. The group who benefited from this funding resided in Provanmill and attended through St. Paul's Youth Forum.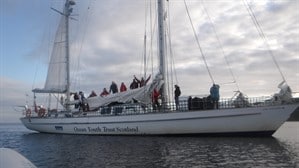 What happened on board
Following their safety briefing from Skippers Iain and Jonathan and First Mates Lewis and Colin, the novice sailors set off on our Oyster 70ft yacht Alba Venturer from James Watt Marina in Greenock and Oban North Pier. Over the course of a very intensive week, every young person learnt all parts of the sailing vessel from the winches and mast gear to the cockpit and galley. Working with our highly experienced sea staff and supported by OYT Scotland's friendly volunteers, the young participants developed skills in:- Piloting, meteorology, sail work, helming and parking the vessel, planning the boat's passage, taking into account – the tides and wind, along with rope work and galley skills.
Learning new skills including helming Along the way, the young crew from Drumchapel took in Oban, Jura, Port Ellen, Campbeltown, Tarbert, Holy Loch and Greenock. The groups from Provanmill sailed from Greenock to Holy Loch, Carradale Bay, Portavadie and Rhu before a reluctant return to Greenock. While they were delighted to return to the world of hot showers and home comforts, they were also sad to leave, recognising just how far they had come since their nervous start at the beginning of the week.
Goals and Achievements
During the voyages, each of the young people set themselves goals of what they hoped to achieve during their residential sailing experience. One participant was keen to learn new skills, commenting that he wanted to learn how to steer the boat and how to speak to the coastguard. By the end of the week he had achieved both of his goals and his OYT Watch leader commented in his personal log book, "Great work on speaking to the coastguard on the radio. Very impressive- well done!"
Another young participant set a personal goal to try new things. She wanted to use the experience to try new foods and learn to cook a meal that other people would enjoy. One day she said, "I was really happy to cook lunch today. We made fish finger wraps. I washed and cleaned up afterwards too." Her OYT Watch leader said she was excellent at volunteering to help, especially offering to even clean the toilets. At the end of the week she reflected on her sailing experience,
One youth learned about the importance of working together as part of a team to achieve greater results. She said she felt she took the sails down safely but she felt it could be done better if they had worked together more. Her goal for home was to improve her teamwork and realised she needed to try harder at school. Her OYT Watch leader commented that her confidence had grown and her team working was great. Some learned about resilience and positive attitudes. One young person commented about feeling seasick and missing home. By the end of the week she was feeling more positive and happy which what she had achieved and glad she had persevered through it.
Through the challenge of a sail training voyage for these young Glaswegians, we set out to broaden young people's horizons, give them the opportunity to mix with peers and adults of all ages and backgrounds. From experiencing Scotland's remote, wild places from the sea, the young people learnt about risk and about looking after each other as part of a team. As well as the confidence and team work skills gained, their hard work meant that they earned accredited RYA Start Yachting Awards. For some young people these may have been the first qualifications they have ever achieved before.
"I learned a lot and had a lot of fun learning about life on a boat. It's made me appreciate what I have at home too. I am excited to see my mum again and can't wait for a hot shower!"