Chinese Dragons and Burns Suppers
We often think of January as a dark and dreary month but in my role as Lord Dean of Guild, the first weeks of 2023 have been vibrant and full of life.
Community spirit is at the heart of everything we do at The Merchants House and it is a joy to see people come together to support each other, learn, share knowledge, and celebrate history, culture, and beliefs.
I was delighted to be invited to a Chinese New Year celebration at George Square for the Year of the Rabbit. In the company of Andy Chung, Chairman of the Chinese Cultural and Welfare Society in Scotland, the Lord Provost, and other cultural leaders I enjoyed spectacular performances which included traditional music and dancing, colourful costumes, and a giant yellow dragon which lit up George Square on an overcast winter's day. You can view images from the event via the Facebook link below.
In January I attended four Burns Suppers across the city where everyone was dressed in their finest tartan and dining on haggis, neeps, and tatties.  A personal highlight was listening to people of all ages reciting Burns' poetry, from primary school children learning their first Burns verse to those who have studied the Bard for a lifetime. It is always good to come together and keep these traditions alive.
A special mention for the wonderful Primary 7 pupils at St Denis's Primary in Dennistoun, many of whom are learning English as their second language. The children confidently gave excellent recitals of poetry and are a credit to themselves, their school, families and dedicated teachers. Well done all!
Thank you to St Denis Primary, the Bridgeton Burns Club, City of Glasgow College and The Beatson for hosting such wonderful events.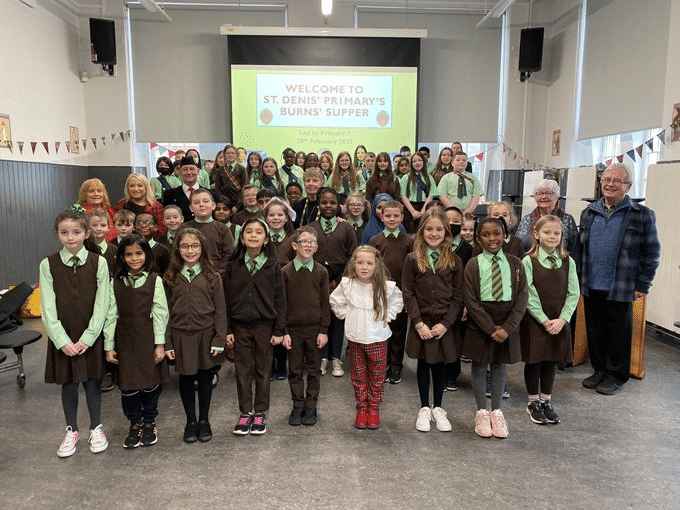 The Directors and I have been out and about visiting with the charities that we have supported in the past and continue to meet and build relationships with people across the communities who need our help the most.
In the coming weeks, we will be introducing our new CEO and Collector, and welcoming our new Trustees.
Thank you for your continued interest in the work of our charity.