Kirking of the House Service 2023
The Merchants House of Glasgow was delighted to participate in the Kirking of the Lord Dean of Guild, Andrew McFarlane. A great turnout of familiar faces, family, friends, fellow Directors, and members were all warmly welcomed to Glasgow Cathedral on Sunday 11th June 2023. The historic service demonstrates the historic links between The Merchants House and Glasgow Cathedral. Rev. Mark Johnstone conducted an uplifting service, with readings by the Lord Provost, the Lord Dean, and the Vice Dean of Guild, Donald Carmichael.
The service was recorded and can be viewed online here, where you'll also find a copy of the Order of Service.
Thank you to all who attended and who continue to support our charity.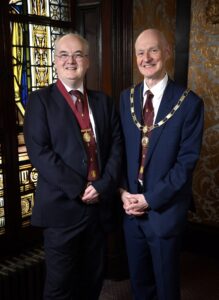 Image of the Vice Dean (left- Donald Carmichael)  and Lord Dean of Guild (right- Andrew McFarlane)