Lord Dean attends 'Our City, Our Learning, Our Future' event at City Chambers
As part of his civic duties, the Lord Dean recently attended an 'Our City, Our Learning, Our Future' event held at Glasgow City Chambers. It was one of a series of sessions that saw all 6000 Primary 7 children from across the city invited to visit the impressive building as part of a city pride campaign led by Lord Provost Jacqueline McLaren. 
The event included the announcement of a new award, The Glasgow Clyde Challenge, which aims to celebrate young people's achievements and encourage good citizenship. A competition to design Glasgow's first animal mascot was also launched on the day, as well as a new digital tour of the City Chambers and accompanying printed resource, both designed specifically for children. 
The Lord Provost explained her role and emphasised that young people are the future of the city and should take pride in it and take responsibility for making it the best place it can possibly be. 
The Lord Dean, Andrew McFarlane, said "I was delighted to accompany the Lord Provost when she addressed over 400 P7 school pupils in the Banqueting Hall at the City Chambers. The pupils learnt about the history of the building and how they could play their part in the future of the city."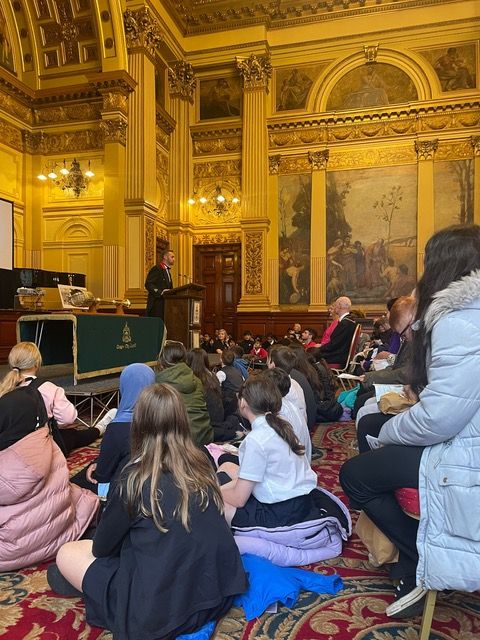 To keep up to date with the Lord Dean's attendance at events across the city make sure to check out the Dean's Blog and to sign up to our newsletter, which can be done by scrolling to the bottom of this page.