The Merchants House takes part in The People's Procession and Service of Thanksgiving for the King
On Wednesday 5th July 2023 St Giles' Cathedral was the scene of a service of thanksgiving and presentation of Scotland's Crown Jewels to His Majesty King Charles III.  
The Palace had requested that charities were represented by those who delivered activities and services, so Nancy Braid, Events Manager, represented The Merchants House of Glasgow. Around 100 people from all walks of Scottish life took part in the People's Procession to represent the people of Scotland, escorted by the Royal Regiment of Scotland, a cadet military band and even a Shetland pony mascot. 
The day was full of military, historic and ceremonial activities and included the Peoples Procession from Edinburgh Castle Esplanade to St Giles' Cathedral. Having processed down the Royal Mile, Nancy had the honour of attending the service inside St Giles' Cathedral together with the King, Queen, the Duke and Duchess of Rothesay, and political leaders of Scotland. 
Commenting on the day Nancy said "it was an honour to participate and I was proud to represent the Charity and the impact of the work of The Merchants House. It was truly a once in a lifetime experience."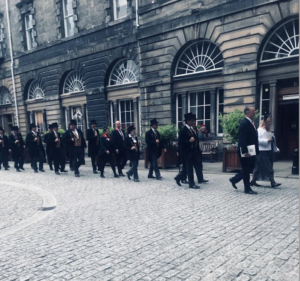 Image: The procession