Celebrating our continuing links with the Royal Navy
Glasgow Merchants have always relied on ships to transport goods and materials around the world. They have also counted on the Royal Navy to protect their shipping interests both at home and abroad. It is therefore no surprise that the Merchants House has a long affiliation with the Royal Navy. 
There have been navy ships with 'Glasgow' in their name since the 1700's. The most recent operational vessel was a Type 42 Destroyer, HMS Glasgow. This ship was launched in 1976 and commissioned in 1979. It saw action in the Falklands and the first Gulf War. It is recorded that hospitality was given by the House to the captain and officers of HMS Glasgow from 1990.
The Type 42 was decommissioned in 2005 and an affiliation was established with HMS Defender, which is a Type 45 Destroyer. Defender visited Glasgow over the weekend of 16 – 20 June 2023 and Directors were welcomed aboard the ship. It is shortly to go in for a two-year refit.
The first of the new Type 26 Frigates, being built on the Clyde, has been named HMS Glasgow and was floated out in December 2022. Merchants' House affiliation is to be transferred to HMS Glasgow and a ceremony to mark this took place in the City Chambers on 19th June 2023, attended by the Lord Provost, Lord Dean and Deacon Convenor, along with the Captain of HMS Defender and the Senior Naval Officer HMS Glasgow.
The Lord Dean looks forward to a long association with the new HMS Glasgow, continuing a valuable tradition.
HMS Glasgow have issued a newsletter which can be accessed here. There is also a film with footage of the float out and return to dry dock here.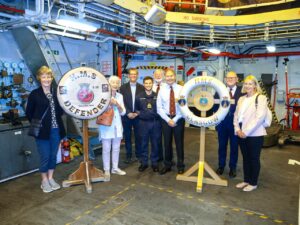 Image: Director's and family onboard HMS Defender.